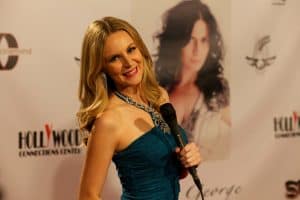 Subject: How to become a red carpet host or hostess in Hollywood
Company: Hollywood Connections Center
The worldwide network of artists, entertainment industry & professionals.
Hollywood is well known for its events, it is a big community. One of the main side attractions, in any event, is the Red carpet. When Red Carpet was first introduced, it was used for royalty but nowadays it is no longer fact that the Red carpet is reserved for VIPs and Celebrities. Regardless of this, it is always fun to watch the jokes and jibs that are made on the red carpet. In addition, the red carpet now serves as an avenue for the public to add to their fashion trends i.e. they watch the red carpet to catch up on the latest trends the celebrities are sporting. In Hollywood events, Red carpet is a medium of distinguishing or honouring guests in events for their impact in the society; apart from Hollywood events, it is used generally to mark an occasion as being formal and of utmost importance.
Movie stars, popular musicians, star presenters and a host of others are heavily featured or tasked with hosting a red carpet event. As long as you fall into that category, it is only a matter of how willing or free you are to host a red carpet. Hosting a red carpet especially in a Hollywood event can be very exciting, fun, chaotic and difficult to manage because of the following reasons:
You will be tasked with meeting every single superstar in the world that would grace even, pretty intense right?

Red carpets are broadcast live on TV, you can imagine what a small slipup can do to your reputation.

You are afforded the chance to ask thought-provoking questions on rumours surrounding a star guest at the event.

The public is depending on you to help them catch up on the latest scoop in the happenings of the life of a star they love.
Thus, whenever the mantle of hosting a red carpet falls on you, you need to be prepared!
Now how do you become a red carpet host?
Let's take a moment to be serious and look at it, you have to have made an impact for you to be recognized or recommended to host a red carpet event. You have to be successful, if not every dick and harry can walk up with a few friends in high places and get to host an event. That is just the honest truth, you don't expect an ordinary TV presenter to host an event that has the richest man in the world on its attendance list. It's just the way it is.
If you are here, for this reason, I have just five advice for you:
Work hard! It is as simple as that. Make a name for yourself, be diligent in your day to day activities.

Create a good reputation for yourself as someone who gives his or her all in any endeavour you find yourself.

Pray and hope your efforts get recognize enough to earn you the chance to host an event.

Register for events, create a blog and blog about the events you attend. You don't have a big reputation since you are just starting out so don't be surprised if you only get to speak to C-level stars. And when you do try and limit the number of generic questions and ask the question you can blog about for your audience.

Network! Network!! Network!!! Build your connections. The only way you can build enough connections is still by working hard to be successful. It is all intertwined.
This is because there is no such this as a Red Carpet host/hostess career. You can only become a host/hostess by being in the entertainment or information industry; and by the information I mean the news industry i.e. a renowned TV Presenter; popular newscaster etc. So, get yourself in any of these two industries; the music industry is not much known to have red host or hostess.
Now that we are on the same page, I would like to address you if you have an upcoming event to host in which case you must have met the requirements that would have warranted you being given the chance to anchor the red carpet. The following tips are for you then:
Get your dressing spot on.
The event will be full to the brim with impressive trends in the fashion department. The best thing you can do for yourself is to dress not just to impress but to feel very confident in yourself. It won't do to dress shabbily as it would cut off future opportunities for you; even damage your reputation.
Smile.
Just smile! Smiling makes one more approachable which is key on a red carpet. The red carpet can be very chaotic – in the sense that everyone you see is a potential candidate to chat with. Keep it fun and make sure you give the audience watching at home the chance to hear from their favourite star.
Act and research beforehand.
By now you are very familiar with engaging in conversations either on set when making a movie or in the studio when anchoring a show. This red carpet is the same as those two; fall back on your skills. This is because you won't be reading a script or any jotting at all as you would be doing the interview as the scenario presents itself.
Humour.
When all else fails, humour will really get the job done! Trust me. Not only would it make the individual you are interviewing relax and answer more questions, but you also would not have to think much before getting the interview going. But you are renowned and have proven your had your own fair share of experience, you don't have to develop any anxiety as you would be interacting with people you have already met at one point or the other.
So there you have it; hosting a red carpet event is fun, it is adrenaline pumping and can also be disastrous if unprepared. Oh and don't forget to move the microphone around between you and the guests when you interview them!!!